Social Work Advice to the FCO

Our Advice Project with the Foreign and Commonwealth Office (FCO) Consular Directorate addresses the difficulties faced by distressed and/or vulnerable British nationals returning to Heathrow, and occasionally other ports, from abroad, who could otherwise be homeless, destitute or present a risk to themselves or others on arrival.
Two Heathrow Travel-Care Social Workers are seconded as Specialist Advisors to the FCO and is based at the FCO Main Office, in King Charles Street, Westminster. They offer advice and support to British Consular Staff (in London and abroad) and thereby:
assist in the process of helping vulnerable people return to the UK to access services/support as soon as possible
reduce preventable homelessness and health deterioration (both physical and mental), social exclusion, crime and disruption to the operation of UK airports (particularly Heathrow)
promote eligibility and enable access to UK support services (formal and informal)
build capacity, add value and increase efficiency within the Consular network
Often a referral to the Crisis Social Work team at Heathrow Travel-Care is made, as they can re-assess people on arrival, meet flights on the basis of risk and work in partnership for 'safe-enough' planning.
A significant part of this work involves supporting people who had been forced into marriage abroad against their will (referred by the joint Foreign Office and Home Office Forced Marriage Unit) and are returning to the UK to seek refuge.
Other clients are British Nationals who have lived, worked or retired abroad and are now no longer able or well enough to cope unsupported. This may be a result of social care problems, physical or mental ill health, detention in prison, homelessness or financial changes.
Our Advisor also contributes to Consular training, policy and developing / maintaining working partnerships in the UK and abroad. They have produced /  updated relevant publications for use by the FCO and / or the wider community to address travel-related social care risks.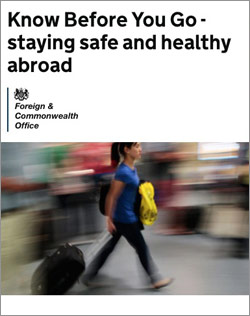 Click here for the FCO – Know Before You Go campaign website.
Click here to see media coverage of a leaflet developed by Social Work Advisors for the FCO in 2010.
Click here for the FCO – No Health Without Mental Health Information Leaflet.
Click here for the FCO – Disabled Travellers Information Leaflet.
Click here for the FCO – Checklist for Travellers.