Emergency Response
Why Initial Humanitarian Assistance at Heathrow?
Evidence now exists to support claims that traumatic stress can trigger long-term mental distress or 'psychiatric injury'. Any litigation for these damages is based on the 'foreseeability' of the risks.  Businesses with a common law 'duty of care' must be able to show that they have identified and assessed significant risks and taken reasonable steps to reduce these risks.
The  Civil Contingencies Act 2004 places a legal obligation on Local Authorities to plan for human welfare following an emergency, and on other local partners to co-operate with them to avoid, mitigate, respond to and recover from, local 'emergencies' in terms of human welfare.  The co-ordination of Humanitarian Assistance at Heathrow (sometimes called Initial Trauma Support or Crisis Support) has been delegated to Heathrow Travel Care as local experts.
Planning and Preparedness
Heathrow Travel Care (HTC) is an established and trusted stakeholder within the Emergency Planning structure at the airport and beyond.  We are members of the Heathrow Joint Crisis Planning Group, Joint Strategic Safeguarding and Trafficking (JSSAT) Group and the Reception Centres Working Group. HTC attends the Hillingdon Local Resilience Forum.
As the designated umbrella organisation for the voluntary-sector agencies who help us to provide Initial Humanitarian Assistance following an emergency affecting Heathrow, we facilitate the Heathrow Humanitarian Assistance Liaison Group which meets twice a year.
Our emergency plan is generic and consequence based.
Response to an Emergency
Heathrow Travel-Care has an emergency on-call system activated by HAL. We aim to deploy co-ordinators to Reception Centres / Management locations as required, within 45 minutes of being alerted.
In partnership with key airport responders, including Chaplains, we will assess the potential for human distress and the options for delivering an initial response based on evidence of what is needed. We can then deploy appropriately experienced and trained personnel as required.
Heathrow Travel Care has a proven capability to support airlines and other local businesses in an immediate post-event situation. This may be working together in Reception Centres for up to 24 hours, or while that business assembles its own 'Go Team' or similar welfare-support function.
Following the Initial Humanitarian Response, any longer term remaining risk / need would be handed over appropriately (e.g. to London Borough of Hillingdon teams, or via a Humanitarian Assistance process). We can remain engaged with the appropriate Crisis Management / Business Recovery teams to offer advice and support as the situation progresses.
If you would like to volunteer for our Initial Response Team, please email our Emergency Planning Manager, James Davies, for more information.
Evidence Based practice
In 2007, HTC undertook an original research project to identify and evaluate evidence from literature to inform a generic framework for Initial Humanitarian Assistance (previously called Trauma Support) at UK airports. The full report is available on the UK Resilience website.
Future Development
Heathrow Travel-Care is committed to continuous improvement. Our ongoing planning cycle is informed by 'lessons identified' in the UK and globally, evidence from our own practice (both Exercises and Responses). Our aim is to provide the most appropriate response to any incident with a humanitarian dimension, at or involving Heathrow Airport.
We have also provided training, workshops and presentations to UK Border Force, Airlines, Local Authorities and other Voluntary Sector Agencies.  If you are interested in discussing your training needs or would like further information, please email our Emergency Planning Manager.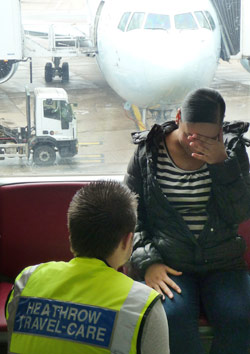 Heathrow Travel-Care (HTC) has over 20 years of expertise in planning and delivering  timely Initial Humanitarian Assistance at Heathrow, having provided support to numerous people across a wide range of incidents, which include:
1990 Hostage returnees from Kuwait / Iraq
1996 Evacuees from Montserrat
1997 Virgin Atlantic crash landing
2000 Saudi Airlines hijack hostages
2001 Stranded passengers after the terrorist attacks in the USA
2004 Asian tsunami returnees
2006 Returnees from the Bahrain ferry sinking
2008 British Airways crash landing and Mumbai terrorist attacks
2010 Stranded passengers following volcanic ash restrictions
2013 British Airways emergency landing
2019 British Airways smoke in the cockpit
2020 Coronovirus Pandemic
2020 Eurowings smoke in the cabin
2021 Afghan Refugees airlifted from Kabul Airport
2022 Turkey/Syria Earthquake
2022 Icelandair / Korean Air ground incident
2023 Sudan Conflict
2023 British Airways – Aircraft Ground Incident – Reception Centre Lite Process response